"Zooming" has been a new term for us for this 'new' social condition. Because of the social distancing protocol, we get used to do a meeting on virtual way with Zoom as one of the platform. But somehow, for me personally, I started to get bored with this Zoom platform. With it sticky cubical face staring at me along the meeting, stay focused to looking to the camera, truly, I get bored. Until I search something on Google, and I found about a different platform with more less function as Zoom. Its called Gather Town. It give me a new experience of Virtual Meeting more than before. Curious? Get along with me, I will explain the basic for you!
Get used with Gather Town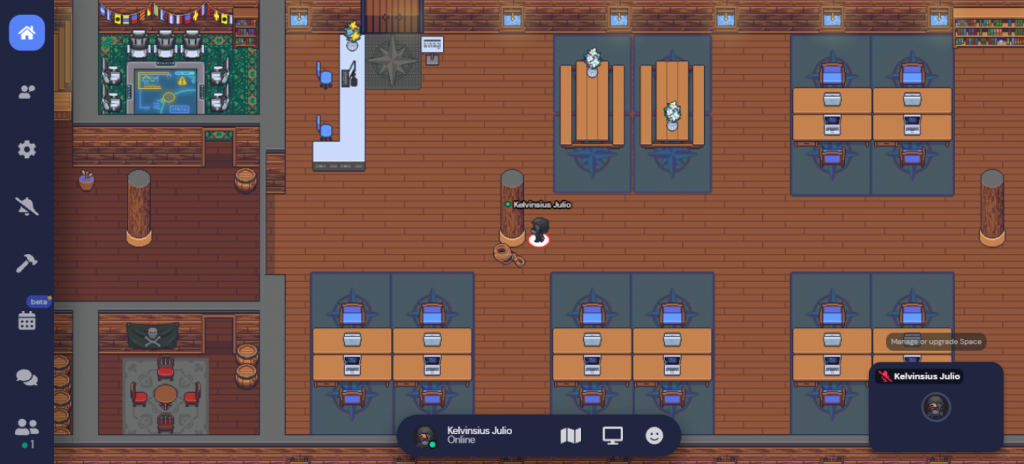 Gather Town basically is a virtual meeting platform with more added feature. Using pixel art interface, we can make an avatar of ours, and move anywhere we want among the map. Basicaly no need to use our video camera, we only need to use microphone to communicate each other, because we already have an avatar to represent us.
The Space owner (in Gather Town we called room with a term of 'Space') can customize the furniture, the area and the decoration. If you bored to do a meeting in one area, you can move into another area as well. We still could do screensharing as in Zoom to do an explanation when doing some meeting. You can move your avatar using 'WASD' on keyboard, and do most interaction with most stuff using 'X' on your keyboard. Okay, but what is the icon on the sidebar of the picture above? That is the basic feature of Gather Town, I will explain it afterward, keep going!
Gather Town basic features
On the sidebar of Gather, we could see 6 basic bars with 1 feedback bar. I will try to explain all the bars from the bottom to the top.
Participants Bar
When we click this icon, we would see all the participant that joining our Space. Basically there are two types of Participant Interface, the Remote Office one and the Non-Remote Office one. When we build our Space as a Remote Office, we will se that the participant will be separated by 'Member' and 'Guest'. But when we build our Space as Non-Remote Office (Event, Conference, Classroom, or other), all participant are same. We also can search the participant to private message them.
Chat Bar
Same as Zoom, we can do a chat things in Gather Town. But the difference is there are 3 option of chatting in Gather Town. There are Everyone, Nearby, and Private. We choose 'To Everyone' when we want to chat all participant among the Space, we choose 'To Nearby' when we only want to chat among our private space, — FYI, in Gather even when we are in the same Space, we cannot speak when we are not in the same private space. Private space can be in one room or in one table, depends on how the builder set it up — and we choose 'To Someone (Name of the Participant)' to chat in private person-to-person.
In the picture below, we can see 'Private Space' within one table, distinguished by different light in that area.
Calendar Bar (Still Beta Testing)
On Calendar Bar, we could see the upcoming event that we set up using e-Calendar. To be able to do that we need to integrate our e-Calendar like Google Calendar to Gather Town. After that, evertime we set up a new event on Google Calendar, we could se that on our Gather Town Space, and vice versa. This calendar feature can make our work easier so we can see the upcoming event or meeting right in the Gather Town Dashboard. For setting up Calendar Bar, maybe I will share in different article for the more comprehensive explanation.
Build Bar
This is the heart of Gather Town, the Build Bar. In Build Bar, we could customize our Space using object that already be given by Gather Town Team. There are 3 option on Build Bar, 'Open Object Picker', 'Upload Image', and 'Edit in Mapmaker'. The first one is use when we want to place an object into our space. There are hundreds object that already given by default, either the interactive or non-interactive one. The second one is use when we want to upload our custom drawing object into our space. The third one is use when we want to customize in more advance way, we can use Object, Tiles Effect, and Wall & Floor in Mapmaker. I will share about Mapmaker in another article also.
Notification Bar
This one is just an ON/OFF Icon. When we will get notification when the space become active. It means when somebody come into our space, we will be notify by the Gather Town System. Its a good way when we want to use the space as exhibition room of our portofolio.
Setting Bar
Setting bar is a tool to setup some rule for our space. We integrate the calendar in Setting. We can setup about chat, invitation, password, user role, or event shut down our space in Setting. The most important things in Setting according to me is User Role. In this bar, we can setup who can be the Moderator (can do a Spotlight thing, same as Pin in zoom, to other person), and when we uncheck the Global Build one, we can setup who can be the Builder (can modify the map of the space).
Feedback Bar
The Feedback Bar is a tool to giving feedback to the developer. Its just a part for someone that happy to give advice and finding bug about something. Although many of feature still under developing, but some basic feature already more that enough to make a different experience of virtual meeting.
Potentiality of Gather Town
More than just a Virtual Meeting tools, I think Gather Town has more potential than that. Its a next level of online meet up. We can do an exhibition, we can make a virtual office (which I make it too), classroom with more interactive feature, and everything that we can think about online meet up. I get many email from Gather Team, and I think they try to make a big improvement in the future. What we can do is building the community to try something new in Gather Town.
If you are interested to meet me in my virtual studio, you can go click this link below and we can do some discussion for the future. If you have any question or some advice for this article, you can leave a comment and I will be glad to answer that. That all from me, see you next time in the next article! Sampai jumpa lagi !